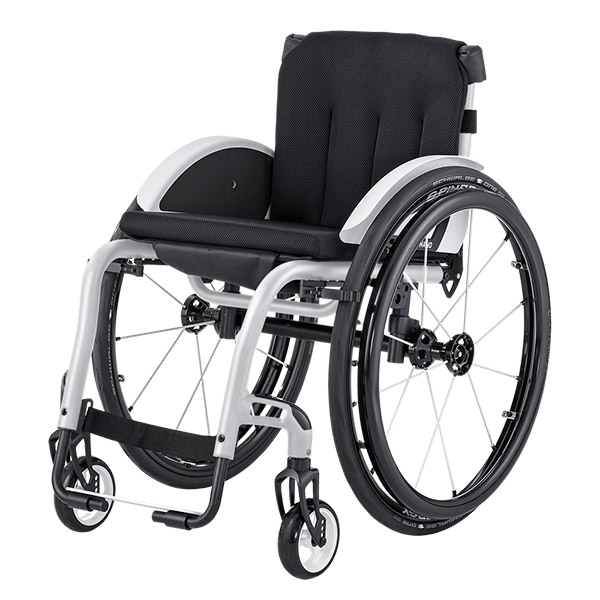 MEYRA NANO
RIGID-FRAME ACTIVE MANUAL WHEELCHAIR
The Nano Active Manual Wheelchair is a rigid-frame wheelchair with an open, minimalist design.
Stylish, sporty, and compact. Stable but lightweight. The compact frame fits in any car, even a convertible!
Make the Nano your own: customise frame colour, side panels, footrest and wheels.
COMPACT & EASY TO TRANSPORT
DRIVE RIM & CASTOR OPTIONS
OPEN, RIGID FRAME DESIGN
The Nano's open frame design means a clean, minimalistic look.
The rigid frame design means less flex in the frame, making the chair easier push and more responsive—perfect for sport.
Rigid frame chairs are lighter too. With less parts such as crossbars and folding joints, the Nano is easier to put in the car yourself.
Less moving parts in a rigid frame mean the Nano won't break easily—a tough chair for an active you!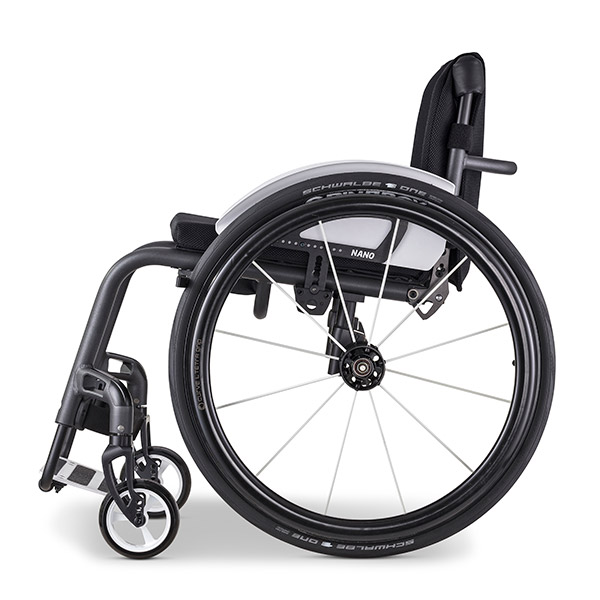 COMPACT & EASY TO TRANSPORT
Wouldn't it be great if all your modes of transport just got along with each other? Good thing there's the Nano.
The Nano's rigid frame design is lighter than a folding chair, so it's easier to put in a car yourself. 
Transporting the Nano is easy—just fold down the backrest and dismantle the detachable side panels and drive wheels—that's it!
The compact frame fits just about anywhere in your car, even in a convertible!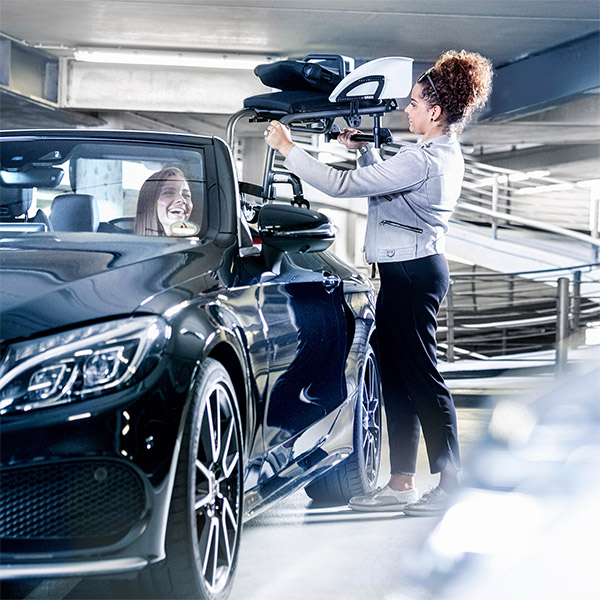 DRIVE RIM & CASTOR OPTIONS
Besides the standard drive wheels, the Xtrends Aktiv wheels are available in blue, red and gold.
Lightweight magnesium wheels are available in metallic blue, red, orange, black and white.
Solid rubber castor wheels with aluminium rims are optionally available in trendy Xtrend colours.
The frog legs are available in silver, black, orange, red, blue and white.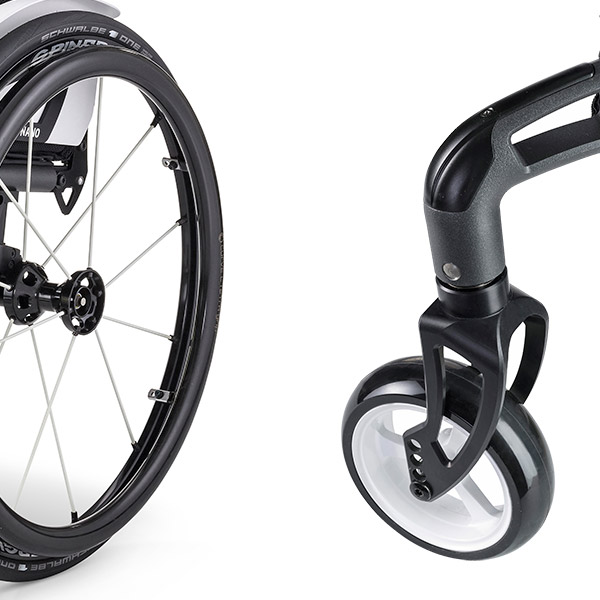 COLOUR OPTIONS GALORE
A whole range of frame colours lets you express yourself. Stick out or blend in—it's up to you. Side panels and footplate are painted in frame colour, with an individual choice of colour available as an option.
Frame colours include: Titanium grey, Silver metallic, Magic blue, Deep black, Matt black, Blue metallic, Red metallic, Signal white, Downtown grey, Magic blue matt, Blue metallic matt, Brown metallic matt, Red metallic matt, Signal white matt, Green metallic, Purple metallic, Copper metallic, Cross orange and Green metallic matt.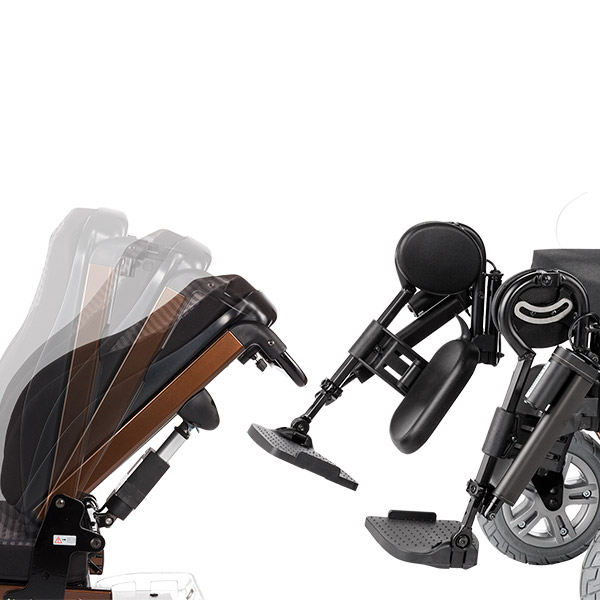 STYLISH
Nano is stylish, sporty and compact.
Designed with an open frame and clear lines, the minimalistic look doesn't get in the way of your personal style. 
Choose the colour of the frame, side panels, footrest and wheels.
Make the Nano's cool part of your own.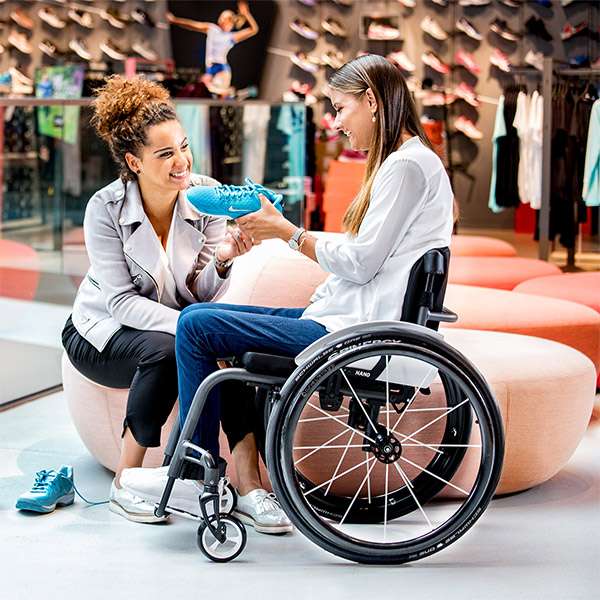 Schedule a test drive
Reach out to one of our friendly team members today to book in your test drive.
SPECIFICATIONS
0°
3°
with wheel camber in degrees / mm
min. 490 / max. 690
SW +170
min. 540 / max. 740
SW + 240
Seat height at front edge (FSH) in mm
min. 450 / max. 530
min. 450 / max. 530
Seat height at rear edge (RSH) in mm
min. 350 / max. 510
min. 350 / max. 510
Total height in mm
min. 600 / max. 970
min. 600 / max. 970
Back strap height in mm
adjustable by +/- 15 each
adjustable by +/- 15 each
Back height in mm
min. 250 / max. 450
min. 250 / max. 450
Seat width in mm
min. 300 / max. 500
min. 300 / max. 500
Seat depth in mm
380 – 500
380 – 500
Frame, short, in mm
min. 760 / max. 840
min. 760 / max. 840
Frame, medium, in mm
min. 800 / max. 880
min. 800 / max. 880
Frame, long, in mm
min. 840 / max. 920
min. 840 / max. 920
WEIGHTS
Permissible total weight in kg
max. 139,5
max. 139,5

max. user weight

(incl. additional load) in kg

130
130
Empty weight in kg
from 9.5
from 9.5
Transport weight in kg
from 6.5
(without side panel, seat cushion, drive wheels)

from 6.5
(without side panel, seat cushion, drive wheels)
Dimensions in mm, weights in kg, wheels in inches, speed in km/h, dimension tolerance ± 10 mm, Data subject to design changes
FRAME COLOURS